DISTANCE VOTING in the Time of Covid 19


MA State Primary, September 1

and
General Election, November 3.
The Secretary of the Commonwealth has determined that any person taking precautions because of Covid-19 may request an absentee ballot for the 
September 1 State Primary
 and the 
November 3 Election.
Here is the link to request an absentee ballot: 
https://www.sec.state.ma.us/ele/elepdf/absentee/English-Absentee-Ballot-Application.pdf
Send the absentee ballot application to your town hall.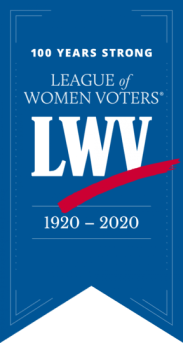 The League of Women Voters is celebrating our 100th Anniversary and the 100th anniversary of the 19th Amendment.
On August 26, 1920, women secured the right to vote when the 19th Amendment was officially declared part of the U.S. Constitution.
Over the course of 72 years, thousands of suffragists had petitioned, lobbied, marched, and picketed state legislatures, Congress, and the White House to give half of the citizens of this country the right to vote. The suffrage movement evolved to become the League of Women Voters, which is celebrating its 100th anniversary. We are part of history.
We continue to work, research, and advocate on the most important issues of the day: the climate crisis, education funding, reproductive rights, social justice, gun control, universal healthcare, immigration rights, and voter service. This is the League of Women Voters of today.
Our core mission is to strengthen our democracy through education and engagement. Ensuring accurate voter information, moderating candidates forums, and getting neighbors to the polls for the upcoming 2020 election is our future.